Herepai hut is a Standard hut located in the Northern Tararua range. . The hut has sleeping capacity for 10 persons and has a wood burner for heating. Firewood is not supplied.
Before Herepai was built, access into the area was via what was Shormans track, located on a leading spur further North, through private land. Putara hut was located on this track, but burnt down in 1977.
The hut was built in 1980 as a result of that Putara hut burning down. This hut was located on a leading spur North of Herepai but access was through private land. A new track was formed up the Mangatainoka valley to get access to the Herapai area.
Access is usually from the Putara roadend in the Mangatainoka valley, east of Eketahuna. River crossings are bridged and usually all weather access is available from the roadend. The hut is on the route to Dundas hut, located some 3 to 4 hours further along the range.
A round trip from the Putara roadend is possible by tramping to Dundas hut, then across the Upper Ruamahanga river and ascending Cattle Ridge. Then on to Roaring Stag Lodge and back out to the Putara Roadend.
This route traverses the alpine tops and is subject to the frequent extremes of Tararua weather and can be impassable. Care should be taken in planning trips to Dundas hut as there is no safe exit if weather prohibits tops travel or crossing the Upper Ruamahanga river.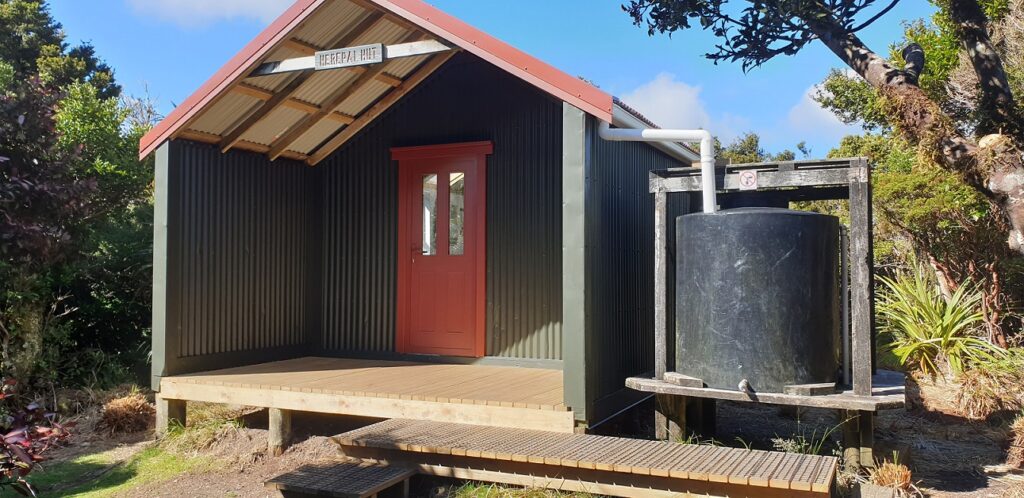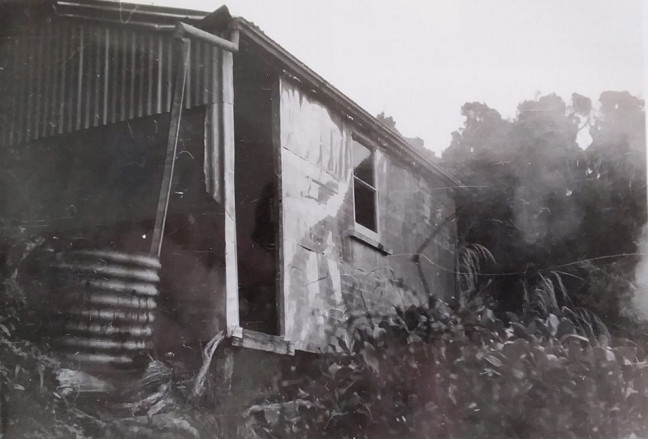 Original Putara hut. Built by the Bush tramping Club. Burnt down in 1977.
Putara was the site of a major search for Scoutmaster Kenneth Balfour . The scoutmaster's disappearance was nationwide news in 1973 and led to one of the largest ever, unsuccessful, search and rescue operations ever mounted in the Tararuas. Kenneth Balfour along with Venturer Scouts' Clark Halverson, 17, Phillip Doole, 16, and Andrew Larsen, 14, had entered the bush at Putara, near Eketahuna, on September 6, lunched at Putara Hut on the old Schorman Track and continued on towards Dundas Hut. Fog meant visibility was bad and they couldn't find the hut and camped overnight in a cave.
The weather only got worst and in the early morning, unable light a fire and having had no breakfast, they made a call to return to Putara Hut. According to later reports they reached Mt Ruapae but took a wrong spur. It was then the three young scouts separated from Mr Balfour who went looking for a way down. That was the last time anyone saw Mr Balfour. With young Andrew Larsen showing signs of exposure, darkness closing in and with no sign their scout leader the three boys headed back along Dundas Ridge. The boys bivouacked on the Friday night and then made their way out of the ranges along Harris Creek to Mangahao, near Shannon, emerging from the bush on the Sunday.
A major search for Mr Balfour was mounted but from the start ran into severe weather problems. The ranges were being swept with hail showers, snow flurries and biting winds which made ground searches and air surveillance extremely difficult. It was also ascertained Mr Balfour had no tent or primus stove, had only been carrying enough food for two days and had been suffering from cramp. The searchers soldiered on until September 17 when the search for the hapless scoutmaster was officially called off.