Tarn Ridge hut was built in 1993 and replaced the Blatchford Memorial hut that was located 1.5 kms north also on Tarn Ridge. The hut sleeps 14 and has mattresses and wood burning stove. (firewood is not supplied). The hut is managed by the Department of Conservation, Masterton.
Funding for the hut was largely obtained from hut fees payments received by DOC in the Wellington region. This funding was passed on to the Tararua Aorangi Remutaka Huts Committee to use by hut replacement and upkeep.
The hut is located well for a range of tramping trips. The hut is a popular stop over for Noerthern Crossing trips. The tramp from Mitre Flats hut over Mitre and Girdlestone peaks takes approximately 5 to 7 hours. The next hut on the Northern Crossing is Arete hut. The Waiohine Pinnacles must be traversed on route to Arete hut, and these steep peaks require caution when crossing. In ice conditions, suitable equipment is required. Dorset Ridge hut is located approximately 1 – 2 hours away on Dorset Ridge.
NOTE: DOC plans to replace Tarn Ridge hut within the next two years. This is due to deterioation caused by the weather conditions at this site.
CAUTION
Care must taken in planning trips to Tarn Ridge. There a few exit routes in extreme wind conditions that occur on the Tararua tops. Also, snow and ice conditions can be difficult over Girdlestone when travelling to Mid King bivouac or Jumbo hut. Also the Waiohine Pinnacles when travelling to Arete Hut and Te Matawai hut beyound. . There is a low level escape route down the Upper Waingawa river, to Arete Forks hut but this is impassible during flood conditions. This route leads down an untracked spur off point 1393 just north of the hut. There is also an old NZFS cullers track off 1313 approximately 1.75 kms north of Tarn Ridge hut. This track is partially marked and cut through the sub alpine scrub and leads down to the Waingawa river. Fords of the river are required and can be impassible during flood conditions.
Read about the Classic Northern Crossing tramp at the Tararua tramping Club website here..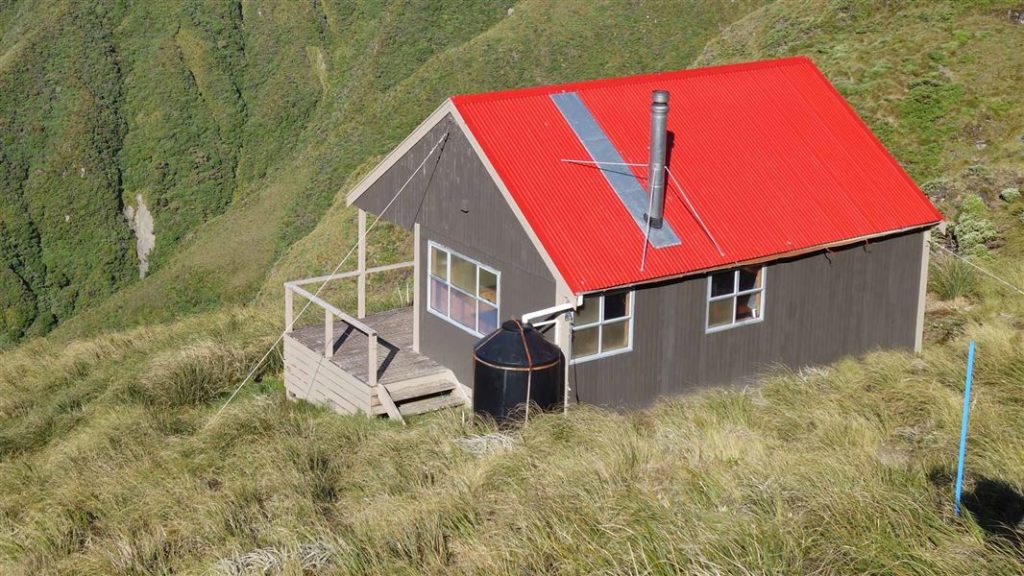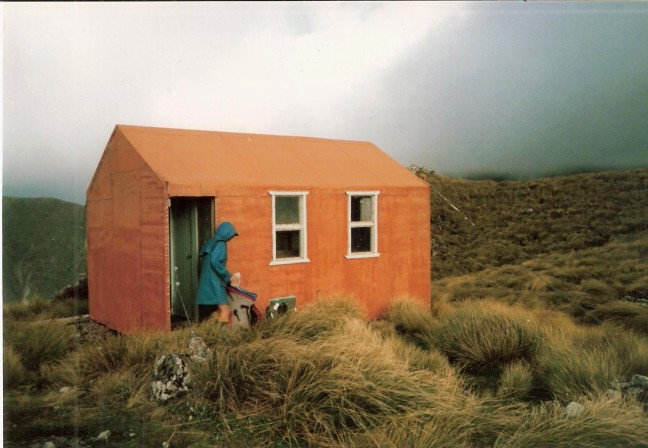 The first hut on Tarn Ridge. Blatchford Memorial hut, built by the Wellington NZDA. In memory of Basil Blatchford, died in 1959 while attempting to get to Dorset Ridge hut. Near what is now the Tarn Ridge hut site.