This is a serviced 32-bunk hut located on the bush line of Mt Holdsworth. The hut is managed as a booked and Serviced hut by the Department of Conservation.
Bookings are planned to open in May 2021, for stays that require bookings from 1 July 2021 to 30 June 2022. Read more about the booking system here…
The Hutt Valley Tramping Club (HVTC) have strong historical links to Powell hut. The first Powell hut was built in 1939 by the HVTC. The hut was named after Ian Powell, long time member of HVTC and a pioneering Tararua tramper and founding member of the Hutt Valley Tramping Club.
The hut was rebuilt it in 1981 by the HVTC and NZ Forest Service. This burnt down in 1999 and was replaced in and a third hut was built in 2000. In November 2018, the hut was closed as it suffered from weather tightness problems that weakened the overall structure. Powell hut #4 was completed in 2019.
Powell hut is located on the popular Powell – Jumbo circuit. This is normally an overnight tramp, or two nights. Trampers heading to Powell first, from the Holdsworth roadend usually stay at Powell and cross over the open tops to Jumbo hut the next day, then on to Holdsworth roadend. Or alternatively, continue on to Jumbo hut and spend the night there.
Care needs to be taken when attempting to cross over the open tops to Jumbo hut. The main ridge is as exposed to the frequent gale force winds as anywherein the Tararua rang. Attempting this crossing in gale conditions is not reccomended.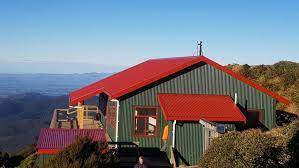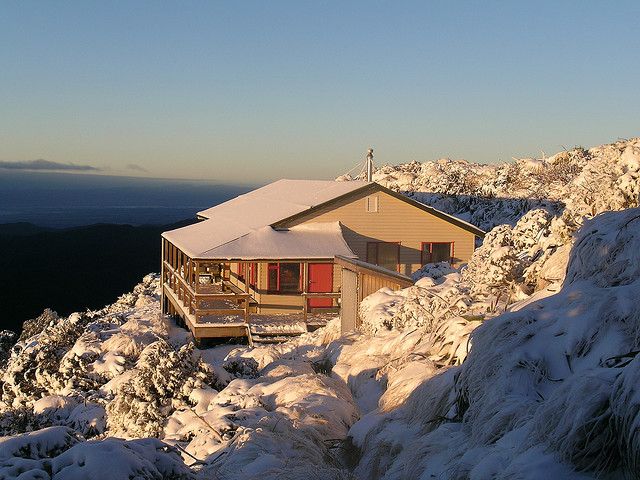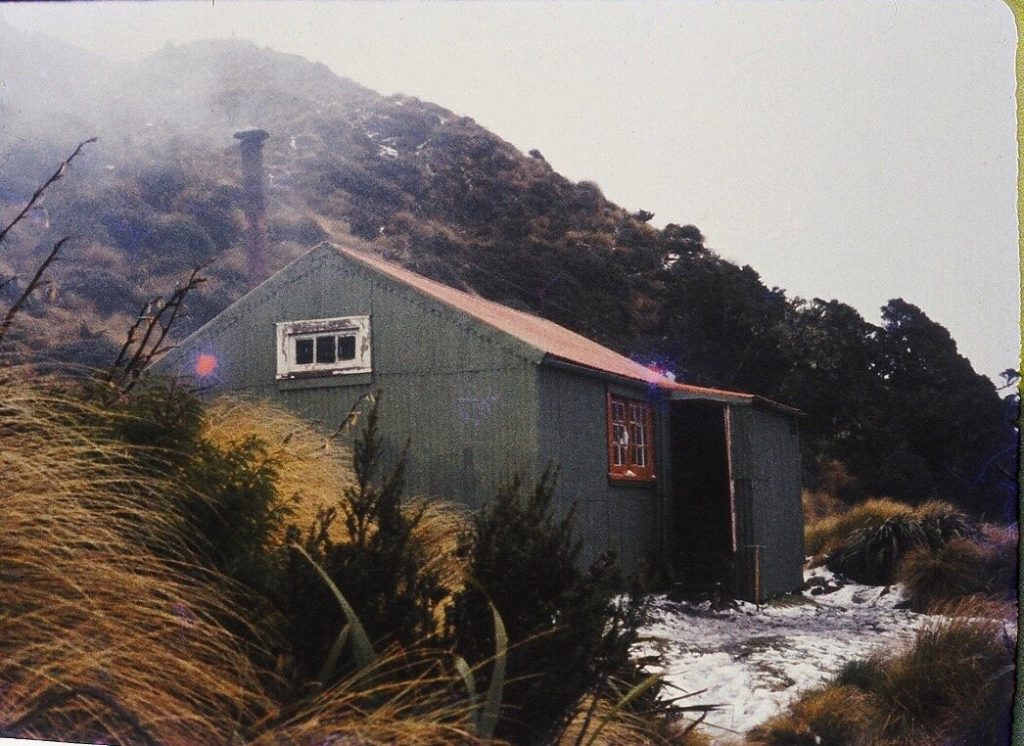 Original Powell hut. Built in 1939 by by Hutt Valley tramping Club.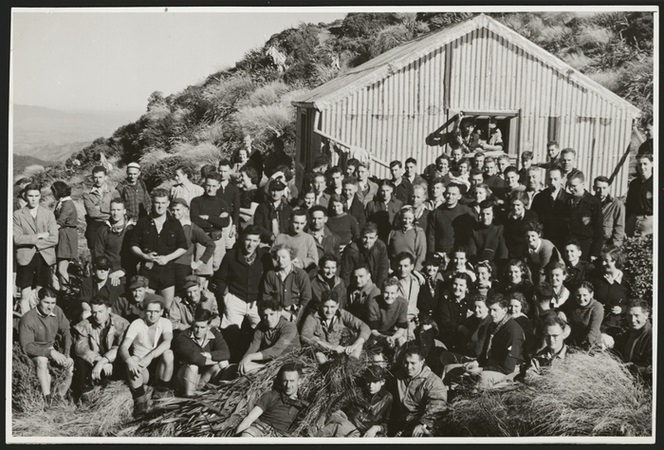 Opening of the original Powell hut 14 May 1939
Cedric the Ghost
The misty, isolated conditions in the Tararua Range could be unnerving for trampers. One tramping hut was thought to be haunted:
Cedric Wilson, a keen Tararua hunter based at Powell Hut, went hunting near Mitre in February 1945 and was never seen again. The legend of Cedric the Ghost began when two of his friends went up Holdsworth to look for him. While staying in Powell Hut they felt his presence and had a terrifying night. A later party had a similar experience.
Some years later, a Hutt Valley Tramping Club party decided to test the mettle of a group of scouts who set out from Powell Hut, in misty conditions, to climb to the summit. Don Millward, dressed in [a] sleeping bag liner, hid beside the track above Powell and waited for the scouts to return. When they loomed out of the mist he drifted across the track and disappeared, and quickly returned to the hut by another route. Soon after, the shaken scouts arrived and told Millward and his friends their story of Cedric the Ghost. (John Rundle, cited in Chris Maclean, Tararua: the story of a mountain range. Wellington: Whitcombe, 1994)
Powell Hut was originally constructed in 1939 because skiers from the Hutt Valley Tramping Club wanted an area to ski in. Between February and April the 4.9 m by 7.3 m structure was erected at a cost of £260. 120 member were present at the opening and included Ian Powell a founding member of the club. Following World War 2 many skiers migrated to skifields on Mount Ruapehu. With the declining demand, the hut fell into disrepair. In 1981 a collaboration between the Hutt Valley Tamping Club and the New Zealand Forest Service raised $34,000 for a Lockwood hut. This burned down in 1999, so in 2000 Department of Conservation spent over $150,000 on a new building, delivering the materials in 85 helicopter trips. Due to damage caused by weather conditions, this hut was dismantled and rebuilt in 2019.
By John Rundle, cited in Chris Maclean, Tararua: the story of a mountain range.
The Early Days
In January of 1863 T.H. Kempton, G. Hodder, F. Peters made the first European ascent of Mount Holdsworth. It was trigged in 1865 by Morgan Carkeek, one of the first and most energetic surveyors. He commenced his explorations in 1865 at the tender age of 19 and over the next ten years ventured to many remote corners of the range, climbing peaks and finding new routes. He spent a great deal of his time around Holdsworth, camping by the present day lodge, then making his way up, often staying near Mountain House, then in a temporary bivvy near the bushline, from where he would wait for the weather to clear before venturing higher. The trig was first destroyed by wind in 1881 then again in 1911.
Mount Holdsworth was being regularly climbed from 1889. Charles Bannister was the first guide to escort parties up to the summit. He gained his experience in the Tararuas as a boy, accompanying early photographer James Brigge. With his two brothers, George and John, they climbed many prominent landmarks, leaving a legacy in the naming of peaks and ridges. Charles Bannister wrote a booklet entitled Mount Holdsworth – Valuable Hints for Intending Climbers, and carried up timber for the inaugural Holdsworth Trig.
Bannister was part of the Mount Holdsworth Track Committee, formed in 1907 with J.C. Ewington (chairman), W.M. Easthope (secretary) and Duncan McGregor (treasurer), with the expressed aim of running a tourist route up to the summit of Mount Holdsworth. They built the first Mountain House, a 3-roomed affair with wire netting bunks and separate men and women's quarters.
Tourists would leave their horses at H.C. Thomasen's farmhouse near today's Holdsworth Lodge, where they would hire packhorses. Bannister would accompany them as a guide. Interest was so high that 3 years after commencing the operation they had to extend Mountain House. Visitors travelled from as far as Auckland and Wellington and included schoolboys and women. By 1910, Mount Holdsworth was receiving 1000 visitors a year, numbers which increased from 1919 with the foundation of the Tararua Tramping Club.